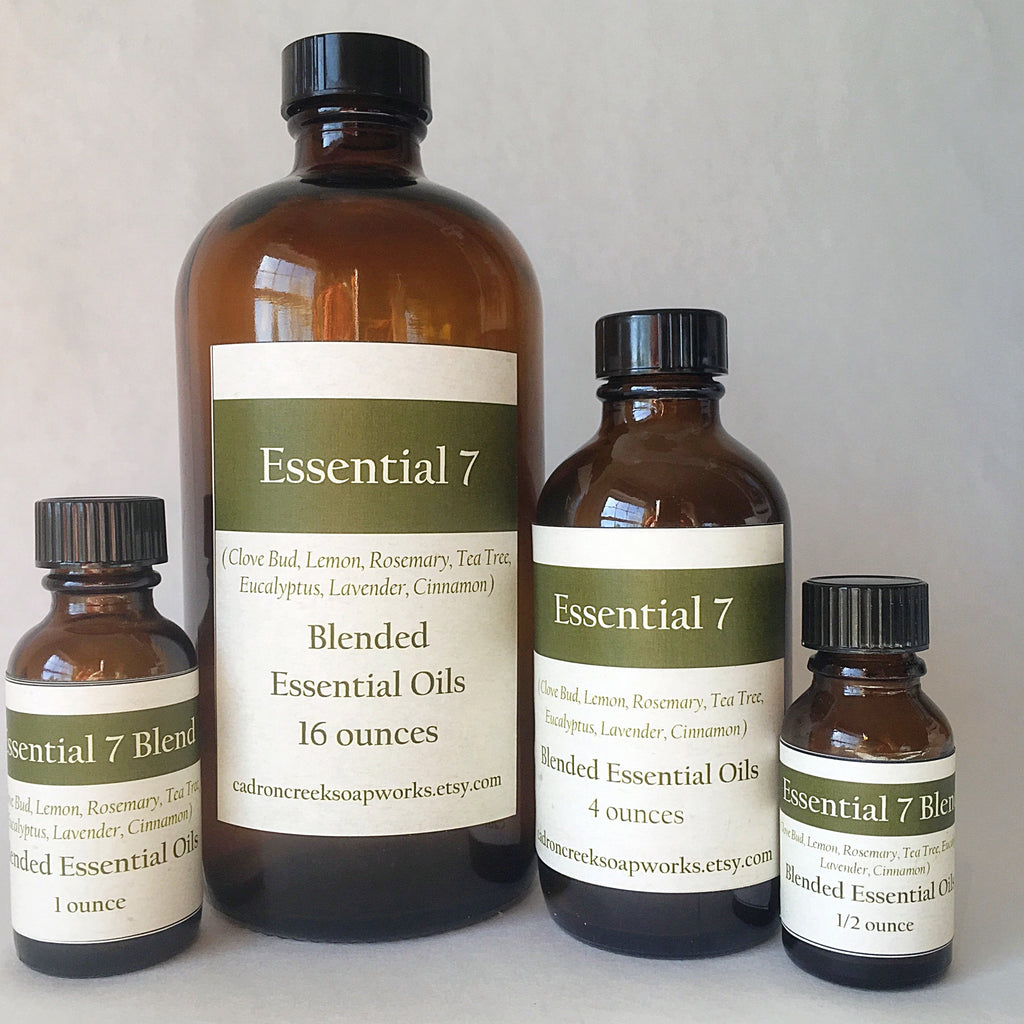 Bulk Essential Oil, Essential 7 Blend
Essential 7 Blend Essential Oils is a warm, spicy, aromatic blend of seven essential oils (clove, tea tree, lavender, lemon, eucalyptus, cinnamon and rosemary). This versatile blend is useful in every aspect of your home to topically combat germs, viruses, mold, fungus.  The clove and the tea tree are the two most distinguishable scents in this blend.  
Essential 7 Blended Essential Oil is a proprietary blend of essential oils exclusive to Cadron Creek Soapworks llc and Nothing Less Than Home llc. 
Ingredients:
-Tea tree (Latin Name: Melaleuca Alternifolia) Australia, steam distilled
-Lavender (Latin Name: Lavandula Officinalis) French, steam distilled
-Eucalyptus (Latin Name: Eucalyptus Globulus) Australia, steam distilled
-Rosemary (Latin Name: Rosmarinus Officinalis) Spain, steam distilled
-Lemon (Latin Name: Citrus Limonum) USA, cold pressed
-Clove Bud (Latin Name: Eugenia Caryophyllata) Madagascar, steam distilled
-Cinnamon (Latin Name: Cinnamomum Zeylanicum) Sri Lanka, steam distilled

This is the same blend of essential oils I use in my Essential 7 soaps. It smells wonderful and really holds up very well in soap and is long lasting.

Available in 1/2 ounce, 1 ounce, 4 ounce, and 16 ounce bottles with black caps and a tamper evident plastic seals.

The essential oils offered for sale in my shop are always the freshest and the newest stock I have. I order essential oils frequently and in bulk to ensure the best product for my soaps. Ordering essential oils in bulk allowed me to keep the soap prices sensible. Offering the EO's for sale helps me keep the stock fresh.


---
---
More from this collection
Liquid error (layout/theme line 317): Could not find asset snippets/sh_sbve-theme-snippet.liquid